EXCORIATE (Chile) ... Of the ghastly stench Tape out now! Death metal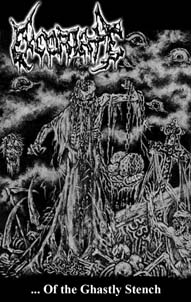 The last recording of Chilean EXCORIATE is now available on tape!
Old school death metal/ Doom that remembers the atmospheres and doomy moments of MORGOTH ("Cursed"), and also the heaviness of CELTIC FROST ("To megatherion") or very early ASPHYX, with a good dose of old school European death metal and traditional Chilean Death metal.
These four songs are destined to those who long for the atmospheres of death and obscurity.
Listen:
https://youtu.be/CL0QhGFsNsg
https://youtu.be/bD7TEw7ufbk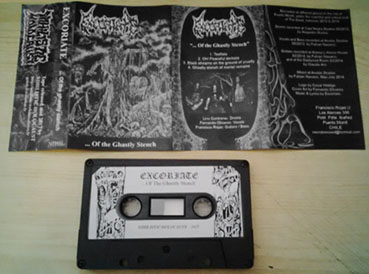 This tape was released by NIHILISTIC HOLOCAUST in mid july 2017,
it comes as a black tape with sticker and pro cover.
Available against 3,20 Euros + postage from this webshop:
https://nihilistic-webzine-distro.fr/We ... nihilistic
EXCORIATE Discography:
- In the Darkest Anguish Demo tape. 2005.
- Death Communion Split tape. 2008.
- Pendulum Demise Demo tape. 2009.
- A Dismal Journey to the Oblivion Split CD. 2015.
- ... Of the Ghastly Stench Demo tape. 2017.
Members of EXCORIATE use or used to play in Demonic rage, The Fallen, Horrifying or Butamacho.
Greetings,
Gab/ Nihilistic Holocaust
http://nihilistic-webzine-distro.fr